Perfect for LED & PDT facials
The Lumi8 is an intense LED facial system utilizing proprietary photo-energy "cell-codes" by varying and controlling the LED intensity, wavelength, time, pulsation and powerwave cycle to promote cell rejuvenation.
The supremely relaxing Lumi8 offers a variation of non-invasive, soothing, non-thermal, red, yellow and gold light dream facials. Your clients can simply choose from seven (7) pre-set programs and lay comfortably under the gentle glow of Lumi8. The facials include fresh breeze face fans. You can enhance the cool fresh breeze with enriched oxygen air by adding the OxyOasis  condenser (optional). The OxyOasis easily attaches to the Lumi8 to deliver custom facial mist, facial serums and air blended cosmetic essences for greater facial results and enjoyment. Lumi8 uses the wonderful combination of light, enriched oxygen and customized essences to enhance all skincare services.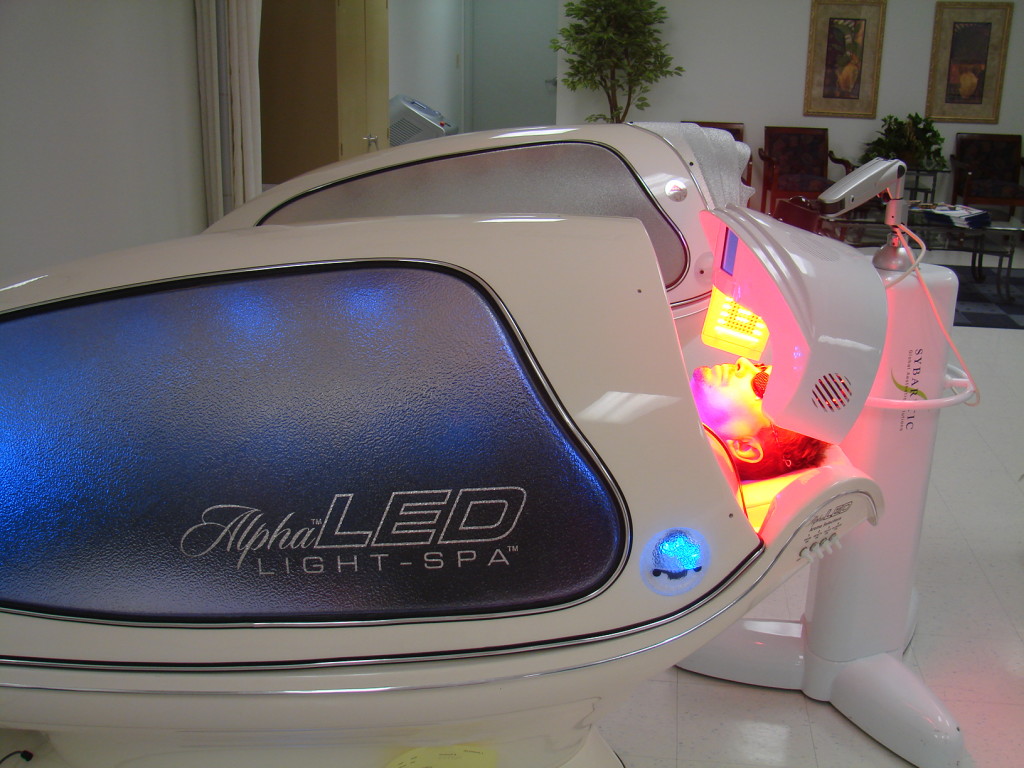 Key Features and Functions of Lumi8
Power wave cycle
Variable pulsation cycles or Fixed LED treatments
Only system in the world that is Oxy ready to connect an O2 condenser, such as the OxyOasis
Proprietary NIR infrared LEDs on each side of the facial array
Delivers safe and pure light energy to the skin cells
Can be used for LED color/chromo therapy, or PDT therapy "Photo Dynamic Therapy when used in combination with cosmeceuticals"
Three specific Monochromatic color LEDs "ie pure RED, pure YELLOW, and combination of the two for pure Orange"
Technical Specifications:
 1334 SI LED Lights "Super intense LEDs" (627 Red LED, 627 Yellow LED, 80 NIR)
Wavelength: 590 nm +/- 4 nm Yellow, 630 nm +/- 3nm Red, Proprietary NIR "Near Infrared"
Energy Fluence: Variable, Max 126.66 Joules/cm2
Pulse Frequency: Up to 100 Hz
Power Intensity: Variable up to 100%
Power Wave: Adjustable cycles 1 s-30 s
Service Time: 30 minutes (variable)
Pre-Set Programs: Seven (7) + 1 custom
Light Surface Area: 120″ / 775 cm2
Cooling Facial Fan: Two (2) mini-circulatory cooling facial fans for a relaxing experience
LCD Technology: Color touch screen liquid crystal display
Languages: Nine (9): English, Spanish, Russian, French, Japanese, German, Chinese, Korean, Arabic
Professional Cart: Portable, stable with multi-position arm
Electrical: 220V/110V 50-60 Hz 12 V/8 A
Oxy-Ready Air Port Included
*Optional (Condenser includes Air Spray System)